Welcome to the Anchor Bowmen Archery Club Website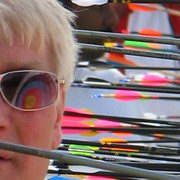 We have set up this website to provide our archery club members and members of the public with information about our Derby based Target Archery Club and archery in general.
We are a merry band of archers ranging from age 8 to 80. We encourage every discipline of bow style, wether it's recurve, compound, longbow, barebow; and affiliate to county and regional archery associations under the guidelines of Archery GB.
Please feel free to browse our site and dip your toes into the world of the this most ancient sport of target archery. [ What's New? ]
Interested in Having a Go?
Do you want to become a club member or would like to experience Target Archery to see if it is for you? If so then please get in touch.
Our club is based in Spondon in Derbyshire and we arrange Archery "Have a Gos" and "Taster Sessions" throughout the year which would give you a chance to sample Target Archery in a fun and relaxed atmosphere.[ More Info ]

We would welcome any enquires you might have about our club. Phone us on 07858 707090 or use our contact page to send us a brief message.